In this chapter, we will explain how to develop an app using Personium APIs through the flow of sample app development.
Sample app development

This sample app (Personium Trails) is a web application that runs on a browser. It allows the user to store the location history data accumulated from Google onto Personium and share selected data with third parties.

Below is a screenshot of the sample app.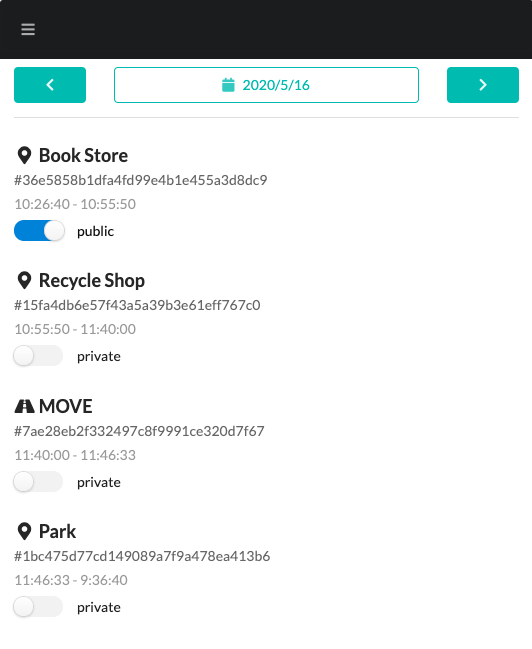 The source code of the sample app is available on GitHub (app-personium-trails).
Prior knowledge

The following knowledges are required before you continue reading.
Basic web application development
Front-end development (Html, JavaScript, CSS)
REST API
Advance preparation

In the sample app, the following operations are performed in advance.
create two Cells
configure account, role and ACL settings in each Cell
When developing an app that uses Personium, please perform the same operations. Refer to Previous Chapter Tutorial for the APIs relevant to Cell creation.
The descriptions of the two cells used in the sample app are shown in the table below.
| Cell type | Cell name | Account name | Role name linked to Account | Role permission settings |
| --- | --- | --- | --- | --- |
| Data subject Cell | alice.example | me | admin | root |
| App Cell | app-personium-trails.example | app | admin | root |
When developing your own app, you do not have to use the same names as the sample's.